FBR Integration with POS ​
Splendid accounts is now offering FBR Integration with POS system with some pre-requisites steps need to be done in splendid accounts. You can now record your sales in a minute.
Prerequisites:
To enable FBR integration with Splendid accounts, enable the checkbox available at company settings
Enter the FBR POS Token that should be provided to you by FBR at POS settings under Company settings.
Enter the FBR POS Registration No at counter of POS on which you want to record the sales directly with FBR.
Enter the HS Codes of all products that you are selling.
Once you updated all these things then you are ready to go to record your sales in minute and an invoice number will be generated from FBR as well.
Warning:
This is to inform you that if any product that has no HS Code saved at product detail and it is being sold, then no FBR Invoice No. will be generated as it is a requirement from FBR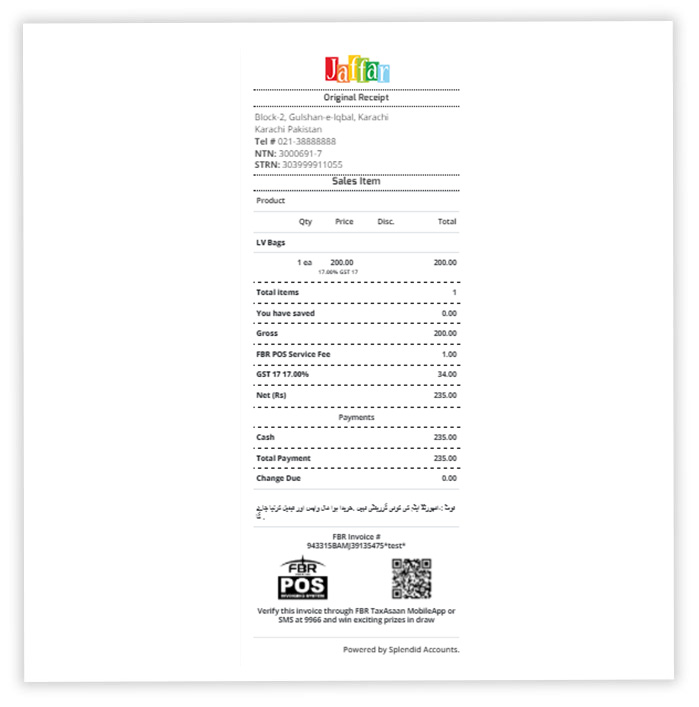 QR-Code verification:
You can verify your FBR invoice using QR Code available at Splendid accounts POS receipt using Asaan mobile application.
How to register for POS token and ID:
For POS registration, log in on web site https://e.fbr.gov.pk with your user credential and get registered by accessing the page Registration à POS Client Registration
On successful submission of data, FBR will generate POS registration numbers which will be referenced in compiling each invoice into the required format.
Following is the detail of the required data for POS registration: