A credit note is a source document providing evidence that a credit entry has been made in the financial records for specific reasons which are explained on the face of this business document.
A credit note is used basically to modify the invoice already issued and such modifications may be necessary due to the following reasons:
Return of goods due to either of the following reasons:

Damaged goods or expired goods
Not according to specifications mentioned in the order
More than ordered
Any change in the number of items in the previously placed order

Mistake in invoice

Arithmetic mistake
Misapplication of discount rate
Misapplication of sales tax requirements
Any other mistake giving rise wrong valuation of transaction involved

Cancellation of order i.e. no sale or purchase transaction took place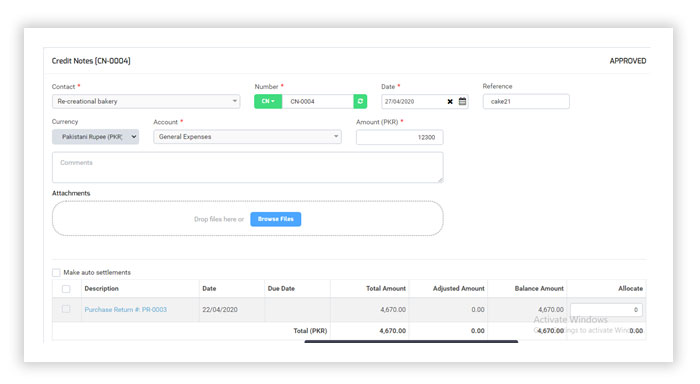 +Add Credit Notes
Contact: Enter the Contact from the drop-down either it would-be a customer or a vendor.
The currency will be automatically generated according to your base currency.
Add the Account type from the dropdown
Enter the Amount
The complete settlement will fetch out according to the transaction from receive money.
Click on save.
Accounts modification at credit note
We have modified our credit note screens to have all the accounts except a few accounts for the contacts.