Overview
You can use an inventory adjustment to increase or decrease the quantity on hand for a tracked inventory item or revalue the item.
Adjust multiple inventory items at the same time by entering a purchase bill or credit note.
Stock adjustments
If you need to update the quantity on hand, average cost, or the total value of a tracked inventory item, you can enter an adjustment. You might need to enter an adjustment following a stock take, to write off an item (e.g. for damaged goods), or where a normal sale or purchase transaction isn't suitable.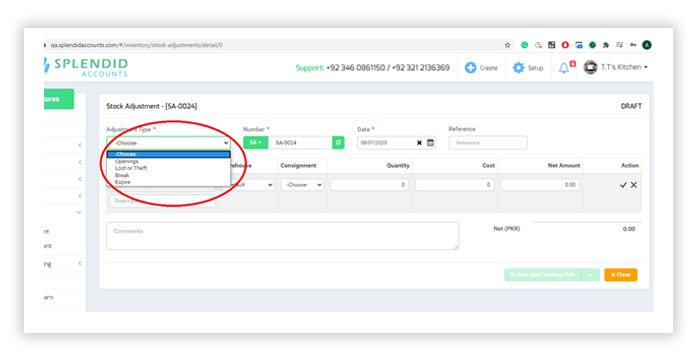 These are the adjustments types you can make are:
Opening: increases the current quantity on hand of the item, and adjusts its total value using either the current average cost or the cost price you enter in the adjustment.
Loss or Theft: Those stock that lost will also be added from the warehouse
Break: Those stocks which break by mishap can be decreased.
Expire: You can certainly adjust the amount of inventory you have on hand, to reflect any items that may have expired. Once you have an accurate idea of your current stock, you can use an Inventory Quantity Adjustment to record any shrinkage that may have occurred
Add Quick/Scan Product: You can also Scan your multiple products directly from the Barcode scanner or enter a product name or Product number through the Add Quick product box.

Adjustments Types:
There are some preliminary steps you need to take before you can start using tracked inventory.
You'll need to ensure you have inventory accounts set up in your chart of accounts and that you have marked your inventory items as tracked.
Before you can import opening balances for your tracked items, you'll need to decide on a tracked inventory start date.
You need to have the Adviser or Standard user role to access inventory items

Track Your Inventory:
When you track your inventory, Splendid Accounts records the quantities of inventory items you have available to sell. If you need to set stock levels when you start tracking your inventory, you can import your opening balances. Stock levels will increase and decrease as you buy and sell these items, or if you adjust an item's balance.
Splendid Accounts calculates the value of the items you have on hand and includes this on the balance sheet report. As you trade items, the inventory balance updates. When a sale happens, the value is recorded as the cost of goods sold.