A barcode essentially is a way to encode information in a visual pattern that a machine can read. The combination of black and white bars (elements) represents different text characters that follow a set algorithm for that barcode type.
Add Barcode Template
With Barcode Templates, you can create barcode reports using values from your records in Splendid Accounts. For example, create stickers with UPC barcodes for all of your inventory that can be scanned when picking items for an order. Any value in a field in Splendid Accounts can be used. A PDF file of the barcode(s) will be generated that you can then print as needed.
Here's an example of a barcode label that was created to show the Product code: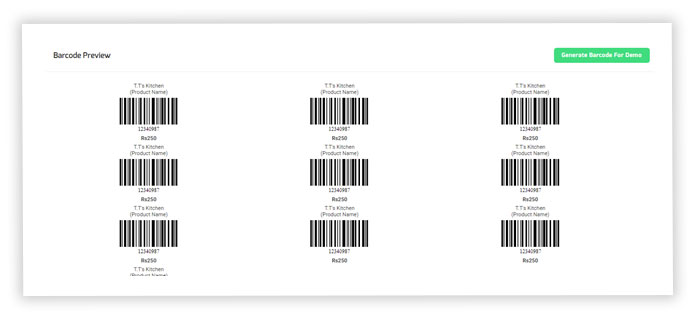 Create a Barcode Template
Click the Add Barcode template in the top right. The Add Barcode Template screen appears: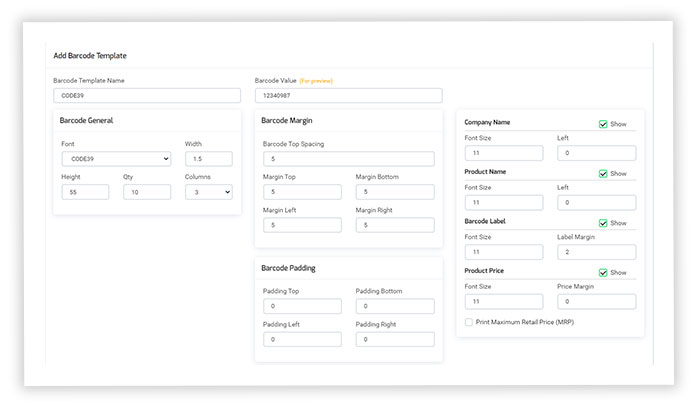 Enter a name that describes the template name or other relevant information for you to identify the template (e.g., Order Number Barcode).
Barcode general, enter the Font size, width ,height, Quantity of the stickers that you will be printing on and No of Columns  (e.g. if printing on a 4″ x 3″ sticker sheet).
Barcode Margin, set the margin spacing of left, right, top, bottom margin spacing along with the size of Company name, Product name, Barcode Label, Product Price
Barcode Padding, set the padding spacing of left, right, top, bottom padding spacing along with the size of Company name, Product name, Barcode Label, Product Price
Comapny Name, set the font size and position of the company name in sticker
Product Name,set the font size and position of the product name in sticker
Barcode Label, set the font size and position of the barcode name in sticker
Product Price,set the font size and position of the price name in sticker
MRP, check the checkbox to display MRP in sticker